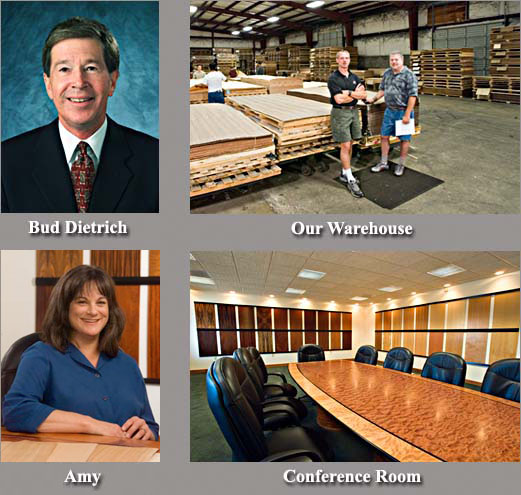 "Dietrich Veneer Sales has serviced the manufacturers of hardwood plywood for the past 23 years. During that period of time our business has grown within each segment of the industry which we supply. This growth has required us to dramatically increase the level of inventory maintained in our Clackamas warehouses. Our focus is on sliced hardwoods and softwoods, including both domestic and foreign species.
Dietrich Veneer Sales is a proud and active member of the Hardwood Plywood and Veneer Association. Over the years we have earned the reputation of being one of the premier suppliers of custom graded faces for the commercial, industrial and residential markets. We take great pride in our ability to provide each customer with a consistent, high quality product delivered on time. We encourage prospective customers to meet with us and discuss their specific requirements. In many cases, the use of our warehouse and/or showroom can be the key to finding a solution to a particularly difficult challenge.
Now is the time to check us out by calling to inquire about our unique ideas to assist you and service your raw material needs. Good business is a two way street, and we would like the opportunity to be your partner."